The situation before working with NETRONIC
n terms of the project side of the business, Inarca SpA manages many projects during one working year. Projects typically include the manufacturing of any of the following types of products: custom or standard made products or machines, as well as the introduction of new products to the market. The company focuses both on quality and on innovation, with an ambitious target of 0 defects and reinvesting 10% of their turnover into new products and technologies.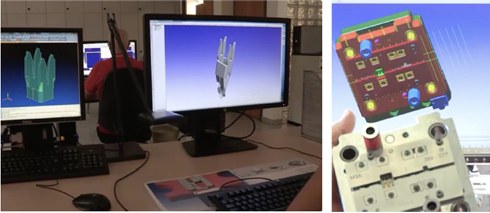 Main challenges
Inarca SpA reached out to us in early 2020 because the standard jobs module of Microsoft Dynamics NAV was limiting their capability to manage, control and overlook all of their projects. In general, they found it difficult working with 7 different departments in terms of resourcing for around 100 big projects per year. This meant that a total of 2500 job tasks needed to be managed.
For Inarca it is very crucial to take into consideration their resource's capacity and scheduled machine maintenance. Both are important factors that determine a smooth and timely execution of their projects. However, while working with standard Dynamics NAV, they lacked transparency especially due to the high number of resources being distributed across multiple departments.
NAV as ERP was not enough
Cristian Coianiz, Project Manager at Inarca SpA, describes the situation before using the Visual Jobs Scheduler as follows: "In terms of planning, in the past we were simply checking delivery dates and looking out for priority projects without any visualization whatsoever. This created issues in terms of knowing how busy certain departments and resources were. Everything was based on our gut feel, which at the end of the day was simply a broad estimate. Since everything was subjective, I was convinced that this was a weakness in terms of our planning".
Requirements for the visualization tool
Inarca analyzed the status quo and created a list of requirements for a new project and resource scheduling tool:
Visual planning board with drag & drop functionality
Dashboard where all their projects and resources are visible
Create dependencies between job tasks and job planning lines
Ability to filter through resources and projects
Compatibility with the customizations that have already been made
Full and direct integration into Dynamics NAV and no data management outside of Dynamics NAV