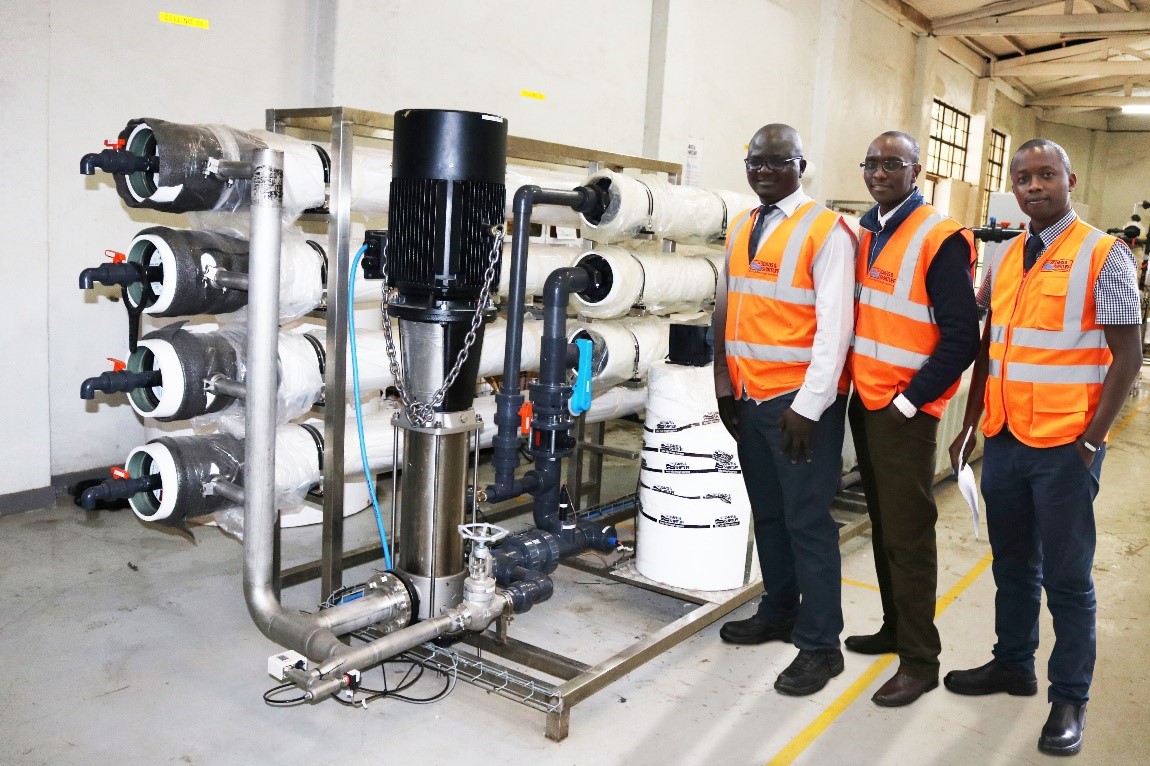 Visual transparency is the key to keeping delivery on time
Davis and Shirtliff, herein also referred to as D&S, a well establised Kenya based company, sells innovative solutions for water and energy systems throughout Eastern and Central Africa. Each solution is tailored to the individual needs of the customers, so each sales order comes along with a project-based manufacturing process.
Production planning was done without Microsoft Dynamics NAV using Microsoft Project or Microsoft Excel. There were only verbal agreements between production engineers and sales engineers on when the orders would be ready. In case of a change in delivery date, there was no formal or delayed verbal confirmation to the sales engineer, so on the part of the end customers there was increasing dissatisfaction about wrong committed delivery dates combined with no information from the sales team.
Dissemination of information via a planning board
In the planning process there are several steps involved: from receiving an order, confirming availability of raw materials, communicating between production engineers to sales engineers on expected completition dates, job scheduling, assembly, to completion and invoicing.
In the day to day business the dissemination of information regarding delivery dates, stocked out components as well as shifts in lead times became a big problem. The production engineer team was plagued with constant complaints from the sales engineer team on missed delivery dates, resulting in a lot of emailing back and forth. To make the whole process more transparent for all parties involved, D&S integrated the Visual Production Scheduler in their NAV system.
The Visual Production Scheduler provides more than one benefit
Lena Muturi (Production Coordinator) from D&S summarizes:
"Transparency was the key for us. With the VPS, our sales engineers are able to visually see their production orders and schedule deliveries and installations for their clients based on the indicated production end date. But we could solve a lot of other problems, as well".
Today at D&S the VPS enhances:
communication to front-line staff on accurate delivery dates and factors affecting changes in the production schedule
capacity planning and load balancing among technicians (overloading some staff while others were under-utilized)
optimizing staff utilization – justification on additional outsourced labor
Planning today
As Charles Kebaso (Engineering Manager) from D&S happily states:
"VPS has enabled us execute our orders with military precision. All the production orders are planned and proactively monitored to ensure the delivery dates are met as promised."
The production order view gives full overview to planned and released orders.

The capacity view shows the planner all resources and their allocations.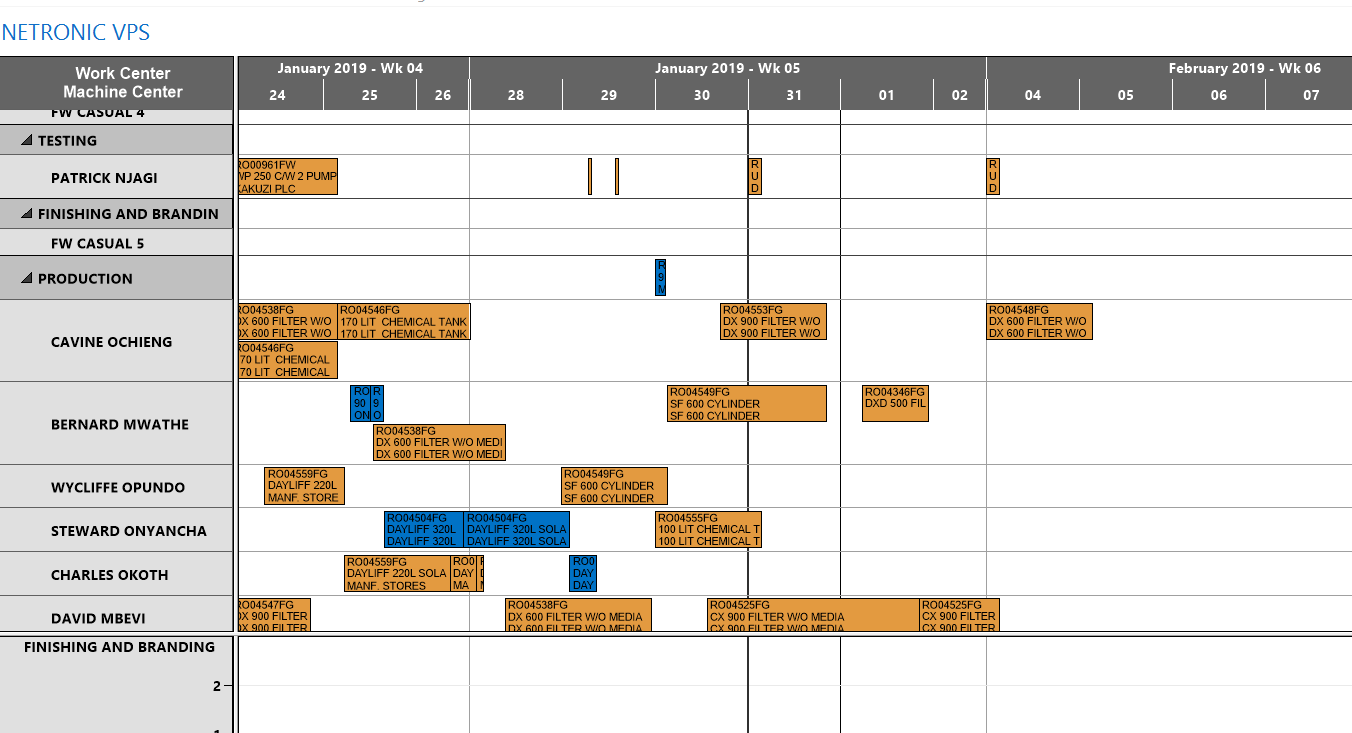 Load balancing among technicians became easy by using the load view.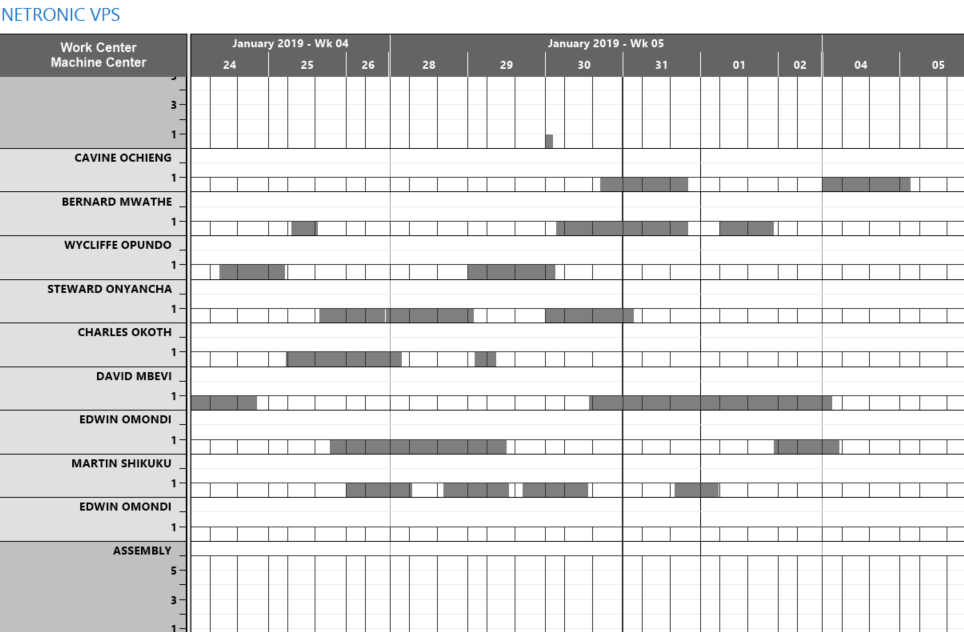 "The integration of the Visual Production Scheduler was very easy. Today multiple planners use the tool across various engineering departments. We also work with the JavaScript edition of the VPS, so our various locations in Eastern and Central Africa are able to view the production schedule via browser."
Joab Mak'Ongul (CIO, D&S)
Inaccurate data came to light
The visualization of the planning process also exposed inaccurate routing run times, which are now rectified.
Additionally, the visualization triggered improvements in reporting and generation of system notifications when production orders are both scheduled and re-scheduled.