About ESK Schultze
The company ESK Schultze specializes in high-value components for the refrigeration, air-conditioning and heat pump industry. Located in Velten, near Berlin (Germany), the company develops, produces, assembles, and welds silencers, oil and liquid separators, oil receivers, oil level regulators, filters, and much more, and finally furnishes them with a high-quality powder coating. Since the company is well-known for their outstanding quality and perfect performance of their products, ESK Schultze currently exports to more than 40 countries.
Sophisticated Production Planning
The production in Velten, Germany, faces major challenges: Composing products designed for very different applications from standard components is subject to strict quality guidelines. At the same time, many products are being designed, developed and produced according to individual customer requirements. Due to having a very high technical competence, the company often offers special solutions, that have to be integrated in their serial production later. Hence a detailed scheduling of the best possible resources for the respective work tasks is needed. At the same time, ESK Schultze has to ensure a delivery on schedule.
No Graphical Planning Board in NAV 2013
ESK Schultze have already been using Microsoft Dynamics NAV for their business planning for years, and in the past also used the integrated graphical planning board with resource and order view. When upgrading to the current Microsoft Dynamics NAV version 2013 the company hence faced a problem:
"After having determined the schedule and extent of the upgrade project with our partner SAMUELSON, we unfortunately had to discover that Microsoft's ERP was not only enhanced by many useful functions. In the current version, the planning board, that is crucial for our planning processes, is missing."
- Frank Danne, Managing Director ESK Schultze
An analysis of the available alternatives revealed a clear preference for the Visual Production Scheduler add-in.
Decision-Relevant Information at a Glance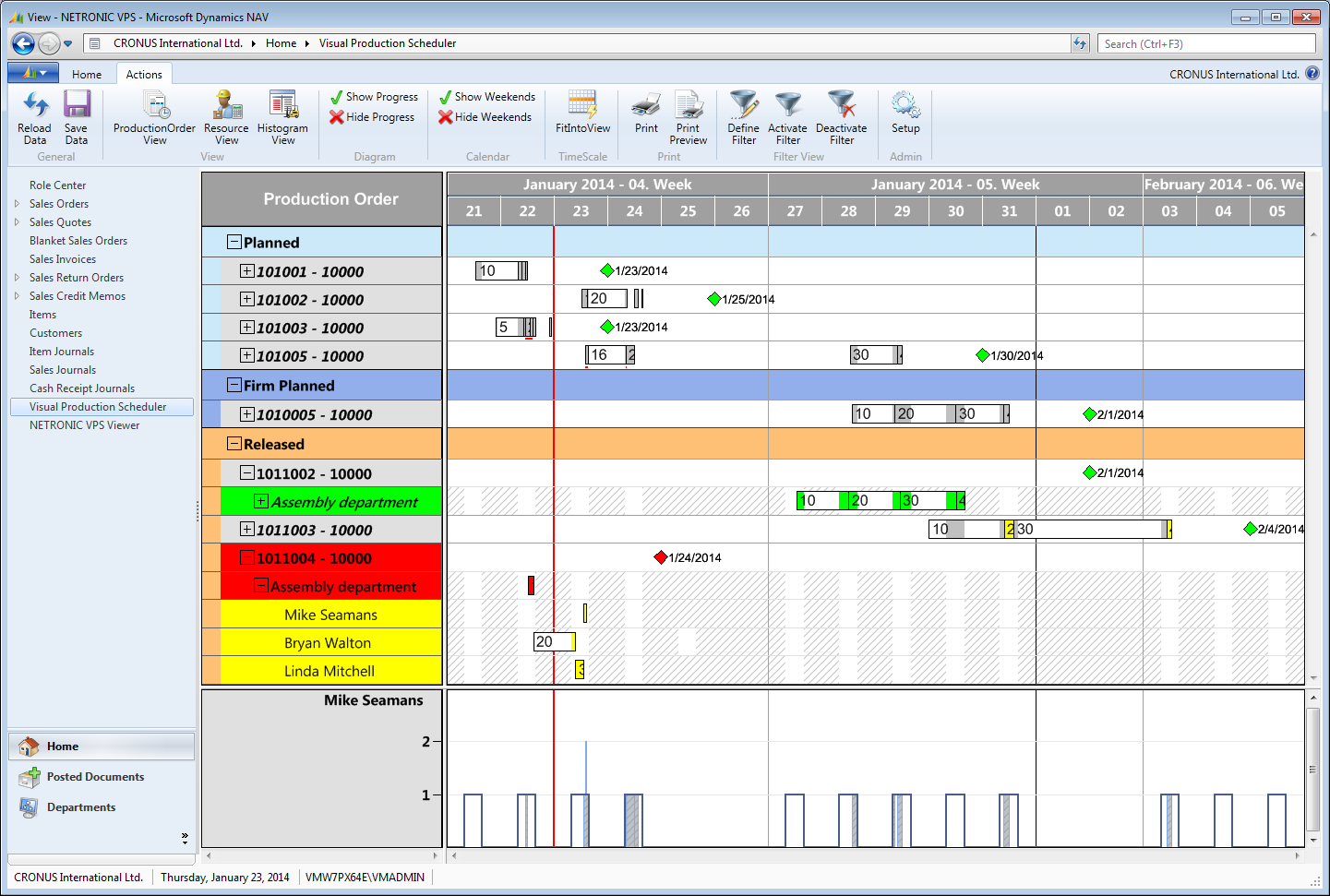 "The Visual Production Scheduler comprises all functions we need for our production scheduling. We appreciate that it fully integrates into NAV – other than in the 'old' standard before - and that we are now able to print our production plan. The GUI enhancements have also significantly improved the handling of the planning board." - Frank Danne
On behalf of ESK Schultze, some minor enhancements were added to the Visual Production Scheduler to further increase its information value. The traffic light colors' semantics is used to indicate critical operations – regarding capacity utilization and delivery reliability. The progress of the operations – finished, started, not started - is illustrated by special background colors. ESK Schultze furthermore uses a dynamically colored rhomb to indicate whether the operation was started in time or too late. The resource view in the table area is marked in red, if an overload will occur in the future, thus offering ESK Schultze enough time to find a solution for the bottleneck.
"The Visual Production Scheduler is the ideal planning tool for our production. Fully integrated, slim, intuitive, and meaningful."
- Frank Danne