Specialists for cruise liners
The shipyard MEYER WERFT GmbH in Papenburg on Ems (Germany) was founded in 1795. The sixth generation of the Meyer family owns the enterprise today. Over the last decades, Meyer Werft has acquired an excellent international reputation for building sophisticated passenger ships. Due to centuries of experience in this field, the shipyard successfully entered the cruise liner market in the middle of the 1980s. Up to now the shipyard has delivered 20 cruise liners of different sizes to customers all over the world.
Interaktive surface with VARCHART JGantt
Meyer Werft has integrated VARCHART JGantt- a tool for visualizing complex coherences and chronological dependencies - as an extended functionality in project management for process control.
The overall IT concept of this range of applications is based on software solutions of SAS Institute GmbH, software supplier for Business Intelligence and Analytics, headquartered in Heidelberg, and , in the context of this approach, in partnership with the NETRONIC GmbH, Aachen. A computation module by SAS Institute GmbH accomplishes reporting and analysis of data, while VARCHART JGantt by NETRONIC Software GmbH supplements the visually interactive planning tool.
Since the middle of 2006, VARCHART JGantt is used in the administration of planning processes to visualize the user-specific requirements. As a result of extending ship size, higher demands and increasing complexity go along with narrowing time slots. They require fast response times; the planning staff can now solve problems faster and in a much more comfortable way by using VARCHART JGantt. The tool adds greater efficiency to the work flow schedule, so the recent challenges in terms of quality and quantity can be met by a constant level of staff.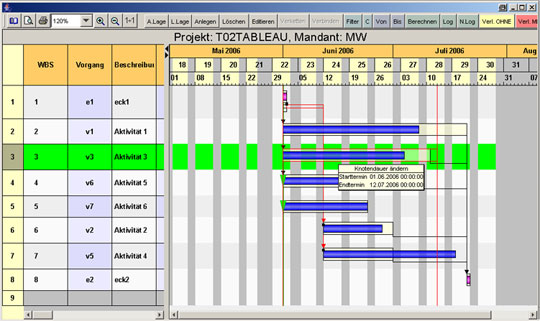 Using the traditional methods, the administration of planning contents in the planning workflow had to run through several single steps prescribed by defined proceedings. By integrating VARCHART JGantt, these single steps in the environment of the user profile could be functionally joined in the interactive surface so that the end-user could be offered a considerably more efficient solution. The visual surface of VARCHART JGantt lets the planner of Meyer Werft not only illustrate but thus also schedule the great number of single processes faster.
"Due to our products' complexity we need efficient tools for the production planning and control. This is why this application area undergoes a continous improvement process",
- Günter Bahlmann, IT manager of planning and data-warehouse solutions, MEYER WERFT GmbH